Brown Stove Works Inc., located in Cleveland, Tenn., completed the interconnection of a 199.64-kW solar field to the Cleveland Utilities Board power grid in April. The Chattanooga-based solar installer for this system was Lawson Electric Company. The system, installed on property adjacent to Brown Stove Works' manufacturing facility, will generate more than 250,000 kWh of clean, renewable energy for local businesses and homes each year – enough to supply the needs of 50 average homes. Throughout the 25-year warranted lifetime of the system, the solar field will reduce greenhouse gas emissions by 4,500 metric tons of CO², equivalent to planting an additional 180,000 trees. For the initiative, Brown Stove Works partnered with Tennessee Valley Authority under the TVA Generation Partners Program.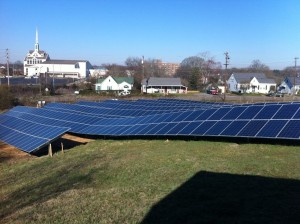 Andrew Orman, Project Manager for Lawson Electric, said, "It has been a real pleasure working with the people at Brown Stove Works, and I'm proud to say that they are now the owner of the largest solar array in the Cleveland area. This 200-kW ground-mount system was another successful project that we were able to deliver on time, despite a lot of rain delays this winter. I hope this is the start of a long relationship with the folks at Brown Stove Works!"
Brown Stove Works was able to participate in the TVA Generation Partners Program as one of the last applicants to have a 199-kW system approved within the program. Shortly after the company's application was approved, TVA reduced the eligible system size from 200-kW to 50-kW. Lawson Electric Company provided engineering and solar installation expertise which allowed Brown Stove Works to have its system operational within six months of project approval by TVA. The solar array sits on a two-acre plot and is comprised of 868 Canadian Solar 230-watt modules, two Kaco 100-kW inverters atop a Cablofil Legrand Fas Rack ground mount PV support system. The entire system connects directly into the Cleveland Utilities Board power grid.
Brown Stove Works, established in 1935, manufactures gas and electric cooking appliances for the home. The company's products are sold throughout North America, and Brown Stove has earned a reputation for delivering reliable, quality products and providing friendly customer service.
"Brown Stove Works is pleased to be able to participate in a program that generates clean, sustainable energy for our community and is fortunate to have partnered with Lawson Electric and Tennessee Valley Authority," said Matthew Brown, executive vice president of Brown Stove Works Inc.