Silverado Power and San Diego Gas & Electric (SDG&E) today announced that SDG&E has signed two new power purchase agreements (PPAs) with Silverado Power subsidiaries Western Antelope Dry Ranch LLC in Lancaster, Calif., and Victor Mesa Linda B LLC in Victorville, Calif., for a total of 15 MW of solar energy.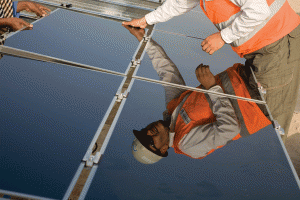 Both contracts are for 20 years and each requires approval from the California Public Utilities Commission.
The project in Lancaster will generate 10 MW of renewable energy and the project in Victorville will generate 5 MW.  Collectively, the two projects will generate enough electricity to power 3,225 homes.
"These contracts with SDG&E mean that we are one step closer to delivering cost-effective renewable energy to California residents and businesses," said Hans Isern, chief operating officer for Silverado Power. "Our collaboration with local communities and investor-owned utilities results in sustainable projects that create jobs, reduce greenhouse gas emissions and help meet the increasing demand for clean, renewable energy."
Under California's Renewable Portfolio Standard program, investor-owned utilities are required to procure 33 percent of their power from renewable resources by 2020.
"SDG&E is committed to supporting and developing solar power as part our state's clean energy future," said James P. Avery, senior vice president, Power Supply for SDG&E. "These contracts add diversity to SDG&E's ever-growing renewable energy portfolio that includes wind power, biomass, biogas and geothermal energy."
Silverado's Western Antelope Dry Ranch project in Lancaster and the Victor Mesa Linda B project inVictorville will create a total of 80 construction jobs over the course of construction, which is expected to start in April 2013 and continue through October 2013.
"Both of the projects in the Antelope Valley and Victor Valley will create much needed jobs for local residents," Isern added. "We selected these sites because they have minimal biological and cultural resources and are located near existing transmission infrastructure."
Silverado Power develops utility scale solar photovoltaic ground-mounted systems.  The company is based in San Francisco and has a large solar project portfolio. It is backed by the Martifer Group, a multinational energy and infrastructure company.